Merry Go Round Cafe
Our dedicated seating and café area!

Only food purchased from our café area can be consumed on our premises!

We cater for allergies. Please ask when you arrive to make sure we have stock. We now have a booklet with the full ingredients of most of our food supply.

We have a large selection of hot and cold food available for adults and children. 2 vending machines for snacks and cold drinks!

Food orders are available from 10am to 3.30pm Mon-Sat. 10am-3.30pm Sun.

Cut off food order times:- open til 4pm kitchen closes at 3pm

open til 5pm kitchen closes at 4pm

open til 6pm kitchen closes at 5pm

Whilst attending a party kitchens will close at 5pm for the 4.15-6.15pm party

and kitchen will close at 7pm for the 6.30-8.30pm party

Food can also be prepared and taken away. See our menu below!

PLEASE BE PATIENT IN BUSY TIMES!

Could we ask that rubbish be cleared from tables when you leave please. A recycling bin has been placed by the exit door for plastic bottles, plastic cups and tins.

TRIAL MENU FOR JANUARY FEBRUARY WILL INCLUDE: BEEF LASAGNE, VEGETABLE LASAGNE, COTTAGE PIE, SPAGHETTI BOLOGNESE, MACARONI CHEESE. ALL SERVED WITH SALAD
All Day Breakfast on a plate
2 sausage, 2 bacon, egg, beans, chips, bread & butter
6 Nuggets & Chips
MGR chicken or Beef burger special & chips
Ham, Egg, chips with bread and butter
1/4lb Cheeseburger & chips
Chicken Burger & chips
Beef or Vegetable Lasagne
Chicken Goujons & Chips
Sausage & Chips
2 eggs and Chips
Vegetable spring rolls with salad and Sweet Chilli Dip
Cheese or Egg on Toast
Soup with 2 slices of bread (Tomato/Veg/Pea and ham/potato and leak/minestrone)
Cheesy Chips
Chips and beans
Chips
Vegetable Spring Rolls
Nachos with Dips
Onion Rings with Salad & Dip
Jacket potatoes with fillings:- plain/cheese/cheese and bacon/cheese and beans/cheese/tuna mayo/beans/tuna and cheese
Baguettes with fillngs :- All day breakfast/Chicken burger and salad/Tuna mayo and cheese melt/Bacon and cheese melt/Bacon & Egg/Cheese salad/Cheese and pickle/Ham salad/Tuna mayo/BLT/Bacon/Sausage and onion
Sandwiches in white or brown bread with all the above fillings. Can be toasted for an extra cost
Ploughmans:- Cheese/Ham/Tuna mayo mix 2 for extra cost
Salad pots:- Tuna mayo/Chicken Burger Salad/Ham Salad/Cheese Salad add rasher of bacon or grated cheese for extra cost
Wraps with Chicken Goujons & Salad, Chicken Burger & Bacon with Salad, Ham, Cheese, Cheese & Ham. Sweet Chilli sauce, BBQ Sauce, Mayo, Burger Sauce.
Garlic Bread or Cheesy Garlic Bread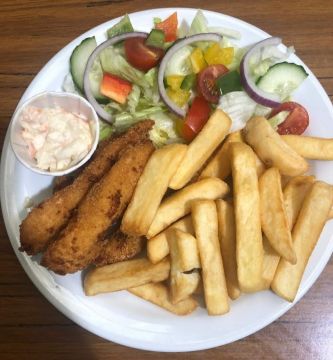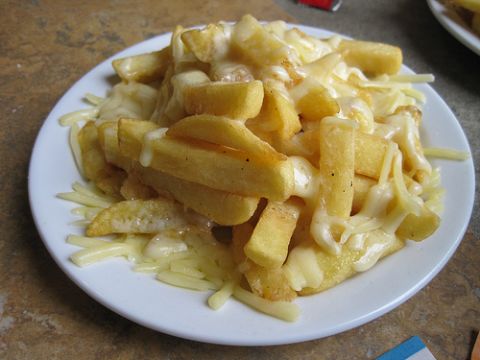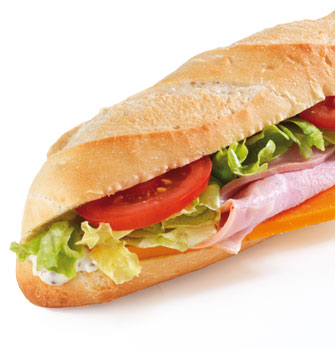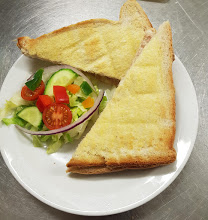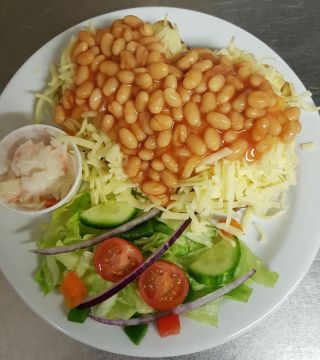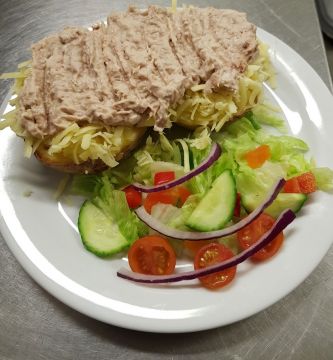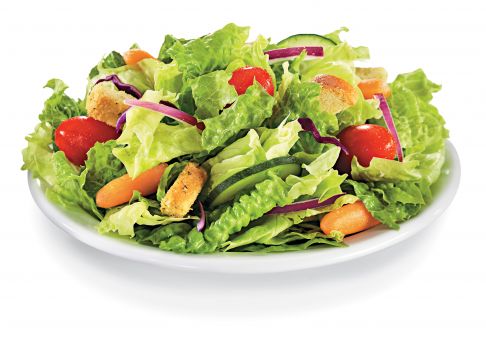 We would like to introduce new items. Any realistic suggestions will be taken on board!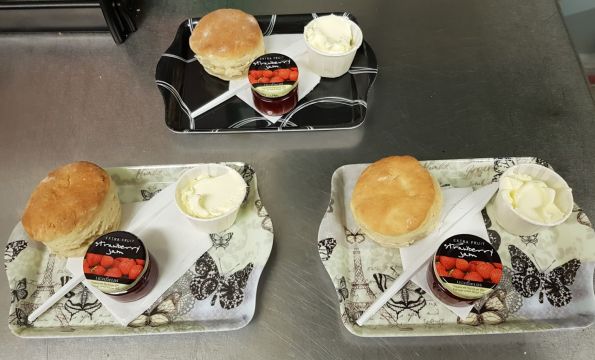 Cream Teas for Summer only!
CHILDRENS MENU
Burger and chips Pizza and Chips Nuggets and chips Sausage and chips
Fish finger and chips Mini Sausage/beans on toast Beans on toast
Cheese on toast
Sandwiches:- Cheese/Ham/Cheese spread/Chocolate spread/Jam/Marmite/Tuna/Peanut butter
Snack box:- sandwich of choice from above/yogurt/crisp/apple or orange juice carton
Fruit Yogurts Ice Cream tubs
NEW FOOD TO FOLLOW
Childrens Wraps with Cheese, Ham, Ham & Cheese
SNACKS
There is a selection of snacks available on the counter from:- cookies/gingerbread men/millionaire Shortbread/muffins/biscuits